Michael Bloomberg, three time mayor of New York City and businessman with a net worth of $27b, has had in impact on the city like few other people. As his mayoral term comes to an end in November, the changes in New York City's social programs, health legislation, financial regulations, and so many more matters is starkly different to when Bloomberg first took office just weeks after the September 11, 2001 terrorist attacks on the World Trade Center. As he leaves office, many wonder what his legacy will be for internationals in the city. From immigration reform to efforts to help entrepreneurs, how have the Bloomberg years helped or hindered the international community in New York City?
Immigration Reform
Support for a reform of U.S. immigration law has been growing rapidly in recent years. Advocates point to lost business and investment resulting from an overly complex system which often forces qualified, willing international entrepreneurs and families to leave the U.S. prematurely.
New York City will be deeply affected by any future immigration policy changes, with its current role as an international hub and home to hundreds of nationalities. Mayor Bloomberg has repeatedly argued for the economic and cultural benefits of increased immigration. His strong stance has led to action focused on making U.S. immigration law fairer to those who will benefit the city, such as entrepreneurs,  as well as making it easier for students who gain skills and knowledge within the U.S. to stay and utilize those same skills. Official statements note that "Mike Bloomberg understands that immigrants' contributions to our economy and our culture made New York, and America, what they are today."
311, the city's information service launched under Bloomberg has been made available in 170 languages as a direct attempt to make internationals' experiences of the city, and access to business information, easier. Mayor Bloomberg himself has gotten involved in making the city more accessible to non-English speakers in his often mocked, but certainly well-intentioned Spanish language speeches.
The February 2013 Virtual March on Washington brought together tech and innovation leaders, with the full support of the Office of the Mayor of New York City, to call on lawmakers to bring about legislation to improve immigration law and so benefit the U.S. economy .
Bloomberg has also been a visible supporter of Immigrant Heritage week and in April 2013 released plans for immigrant integration in cities across the United States. Blueprints for Immigrant Integration, identify strategies for language access, police and community engagement, economic development and entrepreneurship, civic engagement, and citizenship. He has suggested in the past that new immigration policies could benefit cities which are suffering from a steep population decline, such as Detroit, because immigrants would be willing to move to such areas and help build them up again. Speaking of a proposal to invite immigrants in on a path to citizenship if they agreed to live in specific struggling cities for a set amount of time the mayor said, "You would get people to come here, and they would fill those cities with a vibrancy, and the people who are unemployed in those cities would all of a sudden have companies they can go to work for […] it's immigrants that are going to create the jobs that are needed." It is direct actions and straight talk such as this that have made Bloomberg a prominent voice in the national immigration discussion and have improved the lives of internationals living and working in NYC.
Immigration in NYC: Better off than in 2002?
Yes, though the work is ongoing. Following the September 11 terrorist attacks immigration law was a delicate subject, with some calling for much tighter restrictions and a far longer process. Bloomberg has been a strong voice in calling for sensible reform, and he leaves the mayor's office with work still to go but with real-world policies and plans in place. We hope that the next mayor follows Bloomberg's example.
Startup Businesses and Entrepreneurship
A successful entrepreneur himself, Bloomberg recently focused on digital startups and tech businesses with the We Are Made in New York campaign, launched by the city earlier this year.  The growth of the digital industry in the last ten years, with revolutionizing smartphone technology and the continued impact of the Internet, has changed the face of businesses across the world – and the way NYC adapts defines its place as a world leader.
Digital and tech companies who complete at least 75% of their development within New York City will be permitted to advertise using the Made in NY logo, in a clear association of the city's brand with the increasing revenue of digital companies.
During his time in office Bloomberg has also announced multiple initiatives to encourage entrepreneurship including the creation of incubator spaces for startups , the establishing of angel funds, and a "FastTrac" training program for startups.
These actions all come together as figures released recently show that the mayor will leave office with overall employment in NYC nearing four million despite weathering two recessions and the global financial crisis.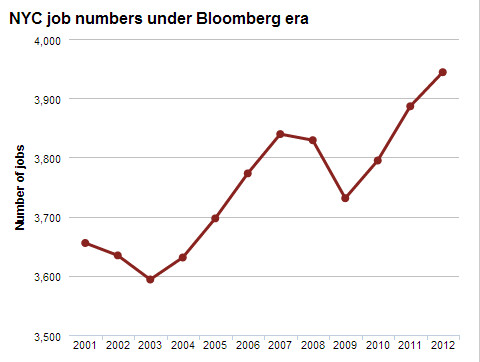 Source: Crain's New York Business 
Startups in NYC: Better off than in 2002?
Though the nature of the industry has changed so much – it would be unfair to criticize NYC's lack of investment in digital tech in 2002 when it was uncommon to do so – the mayor's office has been consistent in staying at the forefront of developments and, in line with immigration reform support, seems eager to encourage international entrepreneurs to move to and be successful in NYC

International Culture
One of New York City's great assets is the heritage that comes from its history, its people and its ongoing place as a cultural capital of the U.S. Whether it's film, music, literature, architecture, or any other creative or cultural institution, part of being in NYC is enjoying what it has to offer.
As mayor, Bloomberg has thrown his weight behind growing international events such as the Tribeca Film Festival, which he called "a celebration of the cultural vitality and strength of our City." He's also been active in initiatives encouraging New Yorkers to get creative – for example, Poem in Your Pocket Day, which saw the mayor publish his own yearly poem. The mayor has been upfront about the economic importance of cultural investment, heading a week-long drive at the time of the Armory Show and The Art Show which sought to build on the projected $50m in revenue raised by the events. It's worth remembering that in 2012 the city has 23.8 million cultural visitors, more than a third of whom are international, with a combined spending power of $12.7b, and investment and public support for the arts has real world importance for the city.
Perhaps, though, Bloomberg's largest support for cultural and artistic endeavor in the city comes not through his role as mayor but as philanthropist – Michael Bloomberg heads a global philanthropy program which includes projects in New York such as Discover New York Arts bringing tech and arts together to increase promotion and awareness of NYC's thriving art scene.
International Culture in NYC: Better off than in 2002?
Different, certainly. Not necessarily better or worse. What is certain, though, is that Bloomberg as mayor and Bloomberg as philanthropist have helped ensure NYC's reputation as a world leader in the arts
Mayor Bloomberg's leadership of New York City has, for the most part, been one of economic growth and stability, and the city's support of tech startups, higher education, and tourism – especially in the years following 9/11 – have ensured cultural and financial growth. For internationals, the mayor's office has supported more open business investment, spearheaded reform of the immigration system, and made a point to remind people that NYC is a city built by immigrants for immigrants. Bloomberg's legacy in NYC is almost certain not to stop simply because he leaves City Hall, and his ongoing business interests and political clout are sure to make him a voice to listen to. Overall, internationals in NYC have done well under Bloomberg, and can only hope the next incumbent continues the mayor's efforts to make this a truly global city.