It's a sunny day in DUMBO as New York International meets Max Schuetz, a young German entrepreneur, at the NYU Poly incubator. As we walk inside the aged brick building towards a large steel door, Max pulls out his smartphone. He opens an app called KISI and swipes the phone's screen displaying a tab called "unlock." Within milliseconds we hear the door unlock and we enter a room filled with passionate, young entrepreneurs; all of who used their smartphones to unlock the same door that morning.  Less than three years ago Max co-founded the company – along with Bernhard Mehl and Carl Pfeiffer – that made this easy access possible. After beating 220 other participants in the NYC Next Idea Competition in 2013, the KISI team decided it was time to bring their smartphone-powered virtual key company from Munich to New York City.  
For people who have never heard of KISI, what's your elevator pitch? 
It's a combination of "keys" and "easy!" KISI enables people to unlock their doors with virtual keys on their smartphones. It's essentially a smartphone app paired with a small device integrated with a building's electronic access system. KISI owners can easily share keys with whomever they want directly through the smartphone app or via email. This unique ability eliminates the need to wait at home in order to let your repairman or visiting friend in; with a simple click you can share keys, and just as easily you can revoke their access.

How did you come up with idea?
It's a funny story really. We were working at a fitness-machine startup in Munich and the business was growing rapidly. The doorbell was constantly ringing, distracting the engineers who had to stand up in order to buzz people in. The engineers would come up with all kinds of creative solutions to avoid getting up; like assembling pens long enough to reach the intercom. We figured there had to be a smarter way. So we thought; why do our keys remain physical objects when everything else exists virtually on our smartphones?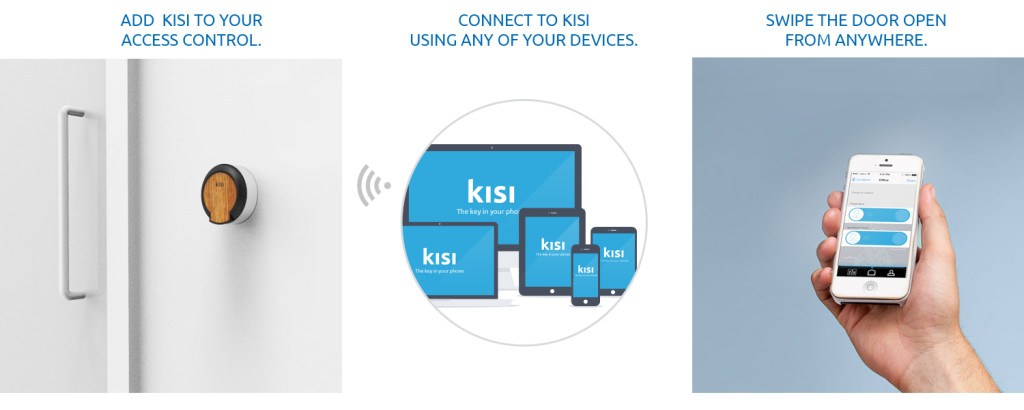 Who are your clients?  
For now, KISI is mainly focused on commercial application like office buildings and residential complexes. Most of our clients are in New York and the US, but our system can easily integrate into any existing electronic access system. The investment costs are very low compared to the huge impact it has in terms of gained control and flexibility.

Have you always wanted to be an entrepreneur?
Yes, I have always been drawn to that sense of freedom. I wanted to be able to decide for myself and shape my own ideas. You're never free from having to run your company or take care of your employees,  but it's something I've always wanted to do; to have an idea, start a company, watch it grow, and make it bigger. And of course its great to be able to give your colleagues a job and a fun work environment.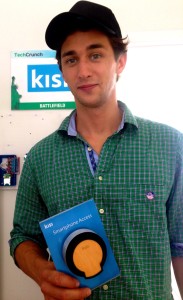 What was it about New York that made you want to move here?
New York is a very dense market and it has an amazing infrastructure. With our metro cards we are able to reach all of our clients within an hour, which is ideal for us because our product requires the installation of hardware. New York and the US in general is a very attractive market because people are very open to try new technologies and innovations, as opposed to Germany where they are more conservative. And of course, the amount of networking events you can go to makes it very fast and easy to get to know people here. You also get a lot of support from the city through organizations like the NYCEDC. They introduced us to many investors, clients, and contacts. In general, the best way to describe New York is "fast and open to innovation." Everyone wants to move forward, to achieve something, to accomplish something. I think the majority of people in New York are focused and ambitious.

You have been living in New York for more than a year. Do you still find it inspiring?
Yes, definitely. More and more! In the beginning you often get overwhelmed, but once you get your life going and establish a routine you are able to realize the massive potential in terms of future customer base and partnerships. In addition, I find that New York is a great location because people travel here all the time; it is a natural connecting point to meet with international clients.

What did you find were the biggest challenges of moving to New York as an international entrepreneur?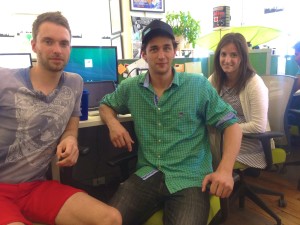 Immigration, getting a visa, and getting started… and of course, finding an apartment. I managed to get a visa through the help of a lawyer. We were lucky because we had already gotten some press coverage and could convince immigration that we were actually doing something innovative. So if you're an entrepreneur I recommend that you try to get some media coverage; not only does it promote your business, it helps justify your visa. It's a win-win.

How do you recommend that people get their business started here?
I recommend using co-working spaces. They are great because you get to meet a variety of people. Because the leases are short-term, it's also very inexpensive. I also recommend using the NYCEDC in addition to university programs like NYU Poly and Columbia University for help with HR. They have certain student programs that essentially pay for your summer interns.

What 3 pieces of advice would you give to international entrepreneurs following in your footsteps?
People from home will question your decisions and make you feel insecure. But don't listen to them. If you have an idea, try it out!  It's important to ask for advice, but consider the background of the people that give it to you. If you receive advice from a person that works in an insurance company; keep in mind that that person will be naturally risk-averse.
Make sure you have some friends where you move. They support you during bad times and lend you their couch when you don't have a home.
Don't think too much about the future. It might scare you. Prepare for what can go wrong, but don't be afraid of failure. Obviously it's better to succeed than to fail, but failure is not a bad thing. At least you learn something. Just make sure to make the best out of it.
Even though you don't like to think too much about the future. Where do you envision KISI going from here? 
Our vision is to be able to unlock everything with a smartphone. Keys will be unnecessary; everyone will use KISI! For cars, digital locks, houses, storage, you name it. We aim to unlock the world with KISI.