When visitors walk through the door of Brooklyn's New Lab they immediately feel surrounded by the entrepreneurial spirit of new manufacturers, innovation-driven designers, and prototype crafters. It is in this environment that we visited Bram de Zwart, the newest member in the facility at the Brooklyn Navy Yard. The Dutch-native is co-founder of the Amsterdam-based company 3D Hubs, a platform that aims to enable everybody to have access to 3D printers. New York International had the chance to sit down with Bram to talk about his recent expansion to New York City and his experiences with the World to NYC program last spring.
Bram, congratulations on opening up your office at New Lab!
Thank you. I am very happy that we just announced the opening of our office here. I'm traveling back and forth between here and our other office in Amsterdam where we have 20 employees. When I'm here, I am mostly working on my own, but we already have an intern and our first full-time employee and are busy hiring.
"We see that more and more products that people use daily are being 3D printed, so we are on the verge of disrupting many industries."
For those who don't know 3D Hubs, could you please tell us what your company is doing?
3D Hubs is an online platform that connects 3D printer owners with people who want to print. Our mission is to localize manufacturing while the 3D printing technology matures. The company was founded in April 2013 and a little more than a year later we now have a network of over 7,000 3D printing locations in 140 countries. That's the fun part of having an online startup. You build something and it's very scalable. It can grow extremely quickly if you are really fulfilling a need in the market. We recently calculated that we provide 1 billion people worldwide with access to a 3D printer within 10 miles of their home.
How did you manage to grow so fast?
Before I founded 3D Hubs I had worked for one of the market leaders in the 3D printing industry. I had a great time there and I was able to learn a lot about the technology and about the market, which really helped my co-founder Brian and me to grow this company very fast, because we know exactly which direction to go and which companies to work with.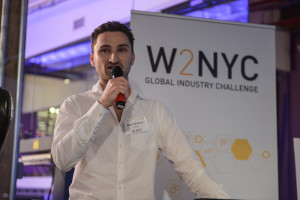 When did you first think about having your own company?
Entrepreneurship is something that intrigued me since I was young. When I was 17, I was running a cocktail bar in my parents' basement. A few years later, when I was still at university, I had an invention, a laptop accessory. I was able to sell the license of this idea to a big company for an amount that was equal to four years of scholarship. Now I am trying to create something big with 3D Hubs.
Moving your business to the US is not that easy. What main issues did you encounter when you came to NYC?
There is so much that you have so set up: the legal and visa parts are tricky. Luckily, I have some good advisors around. I think that it is most crucial to get advisors who think like you do and are startup-minded. Also, it helped that I had been to NYC many times during the last year and attended the World to NYC programwhere I learned a lot of practical things about starting up.
"The W2NYC program helped me to get in touch with the right people and receive helpful answers."
Speaking of the W2NYC program, what was the most valuable aspect of that for you and your company?
Most important for me was to have all these questions answered that I had in my mind because I already had the aim of opening an office in New York, and I had a huge list of things that I had to figure out. It is very helpful to hear different viewpoints from entrepreneurs in the same industry. I still remember the roundtable discussions where I met a lot of interesting people. For me, the high-speed sessions with immigration lawyers as well as recruiting and workspace experts were most efficient.
With your experience and your own story in mind, what would you recommend for international entrepreneurs who plan on expanding overseas?
I think many Europeans don't realize the importance of introductions and also the need of using your networking skills to surround you with the best people to advise you. That's very important. Don't shy away from asking people. In the US there is more a culture of helping each other without necessarily wanting something in return. For example, I needed an agent to find an apartment. So I just asked people: "What agent did you use to find your apartment, were you happy with that person and, if so, would you make an introduction?" You will see, that it works.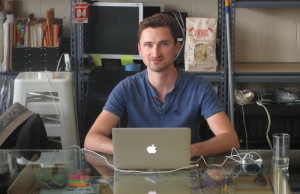 What are the next steps for you now?
We are establishing the team in New York. So hiring people and getting them all up to speed to further expand our leading position on the American market is one of the top items on our to-do list. Another important point is: We have a production network. So we have the world's largest 3D printer network but we don't have interesting 3D printable designs ourselves. We have an API and we are soon disclosing partnerships with a lot of consumer brands and other companies that have these designs. So through the API they can get access to our 3D production network. It's important for us to make sure that all the 7,000 3D printer owners in our network always have enough to print.
When you came here, you certainly made use of some of the many helpful apps available for making life in NYC easier. Which apps were the first that you downloaded on your smartphone?
I recommend  the Airbnb app – use it to stay in different neighborhoods and then choose where you want to live eventually. Then, get Yelp. It's very helpful for finding restaurants. Also, I downloaded Embark, which is a subway app. Oh, and of course Uber. It's a great way to get around.