Scandinavians love New York. Whether it is their open-minded and liberal natures that align perfectly with the exciting "city of dreams," or NYC's vast contrast to the small communities in Norway, Denmark, and Sweden, there is no doubt that Scandinavians are aspiring to create a Nordic splash in the city. There are currently over 250,000 Scandinavian-Americans in New York; and that's not taking into account the increasing number of tourists, students, and temporary expats exploring the concrete jungle that is New York.
SCANDINAVIAN INNOVATORS
Despite their small population, a wide range of Scandinavian companies have settled in the US and New York to ensure that their fellow countrymen and Americans alike can experience a small piece of Scandinavia away from home.
Some may be surprised to learn that many brands popular in the US and New York are of Scandianvian origin. Sweden leads the pack with clothing store H&M, car manufacturer Volvo, and distinguished liquor line Absolut Vodka – all very popular brands in the US. The famous Swedish furniture brand, IKEA, became a recognized part of New Yorkers' interior design in 2008 when they opened their 35th US store in Red Hook, Brooklyn. The Danish electronics brand Bang & Olufsen has convinced stylish New Yorkers with their innovative and sleek designs that have become a global symbol of audio-visual excellence.
However, the most recent Scandinavian contribution to New York's tech scene is the music streaming service, Spotify, which established Manhattan headquarters in midtown in 2012.
In general, Scandinavians believe that "less is more".  They have become known for their love of minimalistic design and have influenced New Yorker's esthetic preferences with elegant Scandinavian brands like Acne (sold at Saks Fifth Avenue), Bo Concept (multiple locations in NYC), GANT Rugger (multiple locations in NYC), Moods of Norway (Flagship store in SoHo) and Cheap Monday (sold at Alter in Brooklyn and some Urban Outfitters)
SCANDINAVIAN CUISINE
The Scandinavian love of simplicity is also apparent in their traditional choice of cuisine. They prefer to stick to the basics and whether it is poultry, vegetables or meat, Scandinavian chefs are easy on sauces and spices but tend to eat a little more salty food than in other parts of the world. This is because salting and smoking meat used to be how they would maintain its freshness during long, dark Scandinavian winters. Herring, Swedish meatballs, fish (sometimes dried), waffles with jam, gravlax, elk, and smoked horse meat are a few of the items you may find yourself tempted to try during one of your Scandinavian gastronomic endeavors.
| | |
| --- | --- |
| | Aquavit, 65 East 55th Street (Park Avenue Tower btwn Park and Madison avenues)Aquavit is a popular Scandinavian spirit with a distinctive flavor of spices and herbs, mainly dill or caraway. In New York however, Aquavit is famously known as the Michelin Star awarded-restaurant in Midtown. Aquavit offers thirsty New Yorker's a variety of imported spirits from Norway and Denmark and serve gourmet a-la carte and tasting menus for dinner. They specialize in Scandinavian classics for lunch, such as Swedish Meatballs, Gravlax and Herringand is a popular place for people to have a formal lunch or a casual after work drink. |
|    | Smörgås Chef, 58 Park Avenue, New York, NY 10016Located in the ground floor of the Scandinavia House Cultural Center is Smörgås Chef, a vibrant cafe and restaurant with high ceilings, a massive birch tree installation and an open kitchen view. Its cuisine is made from local, sustainable and all-natural ingredients from the restaurant's owned and operated farm in the Catskills. Lunch is their most popular hours, but they also serve intimate dinners and family-friendly brunches. Their menu consists of traditional Scandinavian food, including smörgåsbrød (sandwiches), Norwegian seafood chowder, herring and gravlax. |
| | The Copenhagen,13 Laight Street, New York, NY, 10013The ultimate authentic Danish culinary experience in NYC. The restaurant in Tribeca offers classic Nordic food like Gnalling (salsify, pickled tomatoes and hay ash crackers), Krondild (cucmber & green strawberries) and Danish s'mores in a distinct Danish location featuring modern and simple Scandinavian design and floor to ceiling windows. |
SCANDINAVIAN CULTURE IN NYC
Scandinavians appreciate a festive and lively celebration of their traditions, and with their general hospitality and inclusive natures it is no surprise that they have established annual celebrations in Manhattan. There are two big events that Scandinavians have made sure to introduce into the city's vibrant pool of diversity.
17th of May: In celebration of Norwegian Constitution Day, Scandinavians gather together every 17th of May by Sjømannskirken (the Seamen's church) on 52nd street between First and Second avenue. Streets are closed off and artists from Norway are flown in to make the day memorable for all the Norwegians living in New York. Anyone is welcome to attend and enjoy waffles, hot dogs, solo (orange soda), ice cream and live music.  There is also an annual 17th of May Parade in Bay Ridge, Brooklyn and it is not uncommon to see Norwegians wearing their Bunads (traditional Norwegian costume) on this day.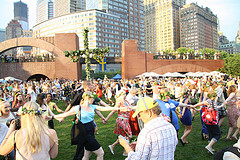 Midsommarnatt: Every June, the annual Swedish Midsummer Festival takes place in Battery Park City in lower Manhattan. The celebration welcomes adults and kids for picnics on the grass, decoration of the midsummer pole, traditional games, and dancing to authentic fiddle music. Attendees make and wear flower wreaths and eat traditional Scandinavian food.
Scandinavia house, located in Midtown Manhattan, is the official home of the American-Scandinavian foundation and is the leading center for Nordic culture in the US.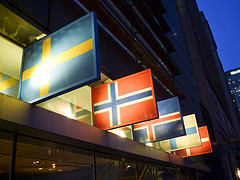 Since its opening in 2000, Scandinavia House has attracted over one million visitors to participate in a variety of cultural events that illuminate the culture of Scandinavia. Ranging from exhibitions and film series, concerts and live performances, readings, lectures, symposia, language courses and children's activities, Americans and Scandinavians alike are welcome to pop in for a quick dip into Scandinavian culture. Their events are hosted regularly.
The Scandinavian churches located around Manhattan have also become popular "homes away from home" for Scandinavians abroad. Svenska Kyrkan (Church of Sweden),Sjømannskirken (Norwegian Seamen's Church) andSødmandskirken (Danish Seamen's Church) all host weekly cultural events, gatherings and church services.
SCANDINAVIAN GOODIES IN NYC
| | |
| --- | --- |
| | Konditori, 186 Fifth Avenue, Brooklyn, NYKonditori has quickly become a popular hangout spot for Scandinavians in Brooklyn. Known to love sweet baked goods such as Kanelbulles (cinnamon rolls) and Coco-Balls, Scandinavians flock to Konditori to satisfy their sweet tooth or caffeine-cravings with special Swedish roasted coffee. They also serve vegan and gluten free baked goods tailored to their Scandinavian health-conscious values. |
| | Nordic Delicacies, 6909, 3rd Avenue, Brooklyn, NYFounded by two Scandinavian women in 1987, Nordic Delicacies is a small shop in Brooklyn that, in addition to offering homemade Scandinavian dishes and gift-items like flags and cheese slicers, also sells traditional Scandinavian foods (crackers, chocolate, cheese) and offer catering for events. |
| | Sockerbit, 89 Christopher Street, New York, NY Sockerbit essentially means, "Sugar cube" and is the perfect description of the increasingly famous Swedish candy shop in West Village. Saturdays are extra special for children in Scandinavia; traditionally they get a small amount of money to buy lördagsgodis "Saturday Sweets"; which is essentially small pieces of loose candies that they can pick and mix from a wide range of candy-containers. At Sockerbit you will find 150 varieties of all-natural candies, in addition to imported Swedish goods and items. |
| | It is worth noting that many Scandinavians take the ferry out to IKEA in Brooklyn on weekends to stock up on bulk Scandinavian food items and to satisfy their love of Swedish meatballs in IKEA's cafeteria while enjoying the beautiful view of the Statue of Liberty. |