Endeavor—a non-profit organization that supports high-impact entrepreneurs in emerging and growth markets around the world—recently released a study which examined the driving factors in NYC's swift rise to become the second largest tech hub in the US. The study found that it is networks of entrepreneurs that have driven the growth of the NYC tech sector. "Entrepreneurs who reinvest their success into others are the foundation of New York City's tech sector."
New York International chatted with Michael Goodwin, project leader at Endeavor Insight and head of this study to get his thoughts on NYC and whether or not other cities can replicate this model.
What inspired this study?
We've seen the tremendous growth of the NYC tech sector from its earliest stage in 2003 to become the second largest urban tech sector in the country, and we wanted to understand some of the underlying factors driving this growth. From there, we hoped to figure out how NYC can be a role model for cities around the world.
You say in the study that the strategies San Francisco used to grow are "only useful to cities which have world-class innovation hubs next door." Do you feel that using San Francisco as a role model is futile for most?
"Talent is going to go to wherever there is opportunity."
That's right. When it started over sixty years ago, Silicon Valley was incredibly rural—it was one of the largest producers of fruit in the country. Over the course of six decades the valley has in three separate waves developed these incredibly revolutionary game-changing technologies.
The Silicon Valley model is not one that most other cities can hope to replicate. If you ask most policy makers, venture capitalists, and entrepreneurs around the world what they think of when they think of an ideal entrepreneurship ecosystem, they're going to mention Silicon Valley. London has a Silicon Roundabout, Sydney has a Silicon Beach, Kenya has a Silicon Savannah; everyone is trying to copy Silicon Valley, but while it's an amazing ecosystem, it would be difficult for anyone to copy or catch up in the near future.
Do you feel that NYC isn't getting the attention it deserves as a tech role model?
Yes, I think so. Unlike Silicon Valley, New York City is very similar to many other cities around the world. The growth of its tech sector is not based primarily on creating revolutionary new technologies, but rather on building off of existing well-established industries. NYC has a lot of really successful companies built on the foundation of its fashion, media, and finance firms. As a result, we see a lot of fashion tech, digital media, and fintech companies in NYC today. We feel that this model, and the dynamics underpinning it, is much more relevant for cities around the world to understand and begin to replicate.
In conducting this study, did you discover anything that was contrary to your expectations? Any big surprises?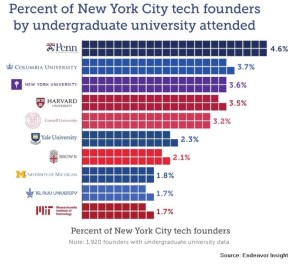 Yes, as we were conducting the study we dug into a few common myths about why tech sectors grow. One of those myths is that the most successful tech sectors rely largely on talent and research coming from a local university. However, in NYC we find that only 10% of NYC tech founders went to university in the five boroughs. 90% of founders are coming from universities all over the US and the world. It was surprising for us to see that. We expected to see NYU or Columbia as the number one universities for NYC tech founders.
At the end of the day universities are really important, but you don't need to have an Ivy League university next door. Talent is going to go to wherever there is opportunity, and the best talent is increasingly mobile and willing to move to cities around the world.
Have you looked at international cities and networks in those cities? What are some differences you see in the US versus other countries?
The first time Endeavor did a similar study was in Buenos Aires—we mapped the city's tech sector in 2011. From there, we've done similar studies in Bogotá, Colombia and Amman, Jordan.
We find that there are similar dynamics in each of these cities whereby a small early group of entrepreneurs become successful and, instead of leaving the city in which they built their companies, they actually stay engaged in creating future generations of entrepreneurial companies. So for instance, Buenos Aires has created the strongest tech sector in Spanish-speaking Latin America, and a lot of the success in the sector can be traced back to three companies. Almost seventy-five percent of future companies were influenced by either those three companies or companies that were influenced by those companies. So this idea of a cycle of reinvestment in which successful entrepreneurs reinvest by becoming angel investors, mentors, or steering other entrepreneurs is something we've seen in Buenos Aires, seen in Bogotá, and obviously we've seen it on a much larger scale in NYC.
What can city governments do to encourage startup founders to give back, inspire, mentor, and invest?
"Later stage entrepreneurs can feed human capital back into the system in a way that's really constructive for younger entrepreneurs."
NYC has done a really good job of letting this dynamic happen without too much public sector intervention, but there are a couple of ideas that came from NYC which are important. The Made in NYC campaign has succeeded in making entrepreneurship aspirational through a marketing campaign highlighting startups. Another great move was the creation of the Digital.nyc platform which compiles a bunch of information about tech companies and about employment opportunities, making information on the sector easily accessible.
When it comes to mentorship, there's always the question, "how do you inspire successful business people to become mentors?" In Boston there's a prize called the "Adolf Monosson" prize which celebrates entrepreneurial mentoring. It promotes the idea that later stage entrepreneurs can feed human capital back into the system in a way that's really constructive for younger entrepreneurs.
Angel investment is another area that's important, and programs like the Angel Resource Institute train local angels. Angel investing is difficult and very risky, so providing the training around how to do it successfully and in a way that adds value for entrepreneurs is something we found to be really important.
The final piece is how to spur the direct spinouts—serial entrepreneurs and former employees who go on to form new companies. Cities can work to keep successful first-time entrepreneurs engaged in the city. For instance, NYC has an entrepreneur council that is run by the Partnership for New York City that engages entrepreneurs in local policy discussions so they can continue to add value to the city.
In the study, you say that a network of 2,340 NYC tech entrepreneurs from 1,297 companies has emerged—how were those networks formed primarily? Are there certain platforms like Meetup or LinkedIn that dominate networking in NYC?
We didn't collect any info on how people met in a comprehensive way but anecdotally I would say there are three ways people meet: LinkedIn is super important because it provides visibility into what different types of people are doing. It can be a way to learn about a person, understand who they are connected to, and get a more personalized intro to eventually meet them in person. There are also a multitude of meetups in NYC. NYC Tech Meetup is important, and there are lots of small gatherings which local VCs organize to learn more about early stage companies. People also rely on their university or pre-entrepreneur career networks. A lot of people will found companies in the same industries that they have previously worked in—so they may have connections through that as well.
What are other interesting cities to look at? Is there anything NYC could be learning from other cities?
"Ultimately, policies that promote entrepreneurship should aim to keep the entrepreneurs and their companies local."
I think of the cities we've looked at – with the exception of Silicon Valley, there's nothing that Buenos Aires or Bogotá are doing that supersedes what NYC has done. You can look at a city like Santiago in Chile—the national government in Chile has created a program called Startup Chile, and it gives anyone who applies and is accepted $40,000—all you have to do is go to Santiago and live there for six months. This seems like a really innovative policy example, but Santiago 's tech sector still lags behind other in the region despite the money that's been invested there. Ultimately, policies that promote entrepreneurship should aim to keep the entrepreneurs and their companies local.
So you feel there's more loyalty inspired if investment comes from the local level rather than government?
Yeah I think so. It's a pretty mercenary approach to tell people "you should come here from wherever you're based." At the end of the day people stay in a city because there are good professional opportunities, they have some kind of network there, and the quality of life overall is appealing. NYC obviously succeeds on point one and three—the network ultimately differentiates New York City in the same way that it could differentiate Santiago or Bogotá if only they raised the visibility of the network and tried to encourage more people to become active participants in it.
Lastly, what are your top three pieces of advice to entrepreneurs who are looking to grow their networks? 
Attempt to connect to the highest quality people. It's intuitive to say that, but it can't be over-emphasized. It's really important to be connected to people who are going to add value to your company over the short and long term.
There are many different avenues you can use to find potential mentors or angels. NYC has a wealth of them and websites or organizations like New York International and Digital.nyc are doing a good job of compiling them, and serving as a gathering point for meetups, events, and other types of opportunities.
Networking ultimately is a two-way street. When you're a younger entrepreneur, you might think you need to tap a super senior person to get advice on raising capital, but also think about what you can offer to that senior person from your own experience. A lot of people stay engaged as mentors specifically to learn about new trends, new tech, and new business models. If you're someone in your early 20s or 30s you might not think these things have value to someone who has started his or her own company, but you'd be surprised.