1. Plan: This is the number one rule of eating out in New York. While the number of good restaurants is astounding, it's also overwhelming. Don't let yourself get caught wandering around in search of just the right place (haven't we all been there?), or worse, at a bad restaurant. All it takes is a quick search on review sites Yelp, Zagat, or Tripadvisor to find what you're craving, no matter what your budget or food preferences.
2. Hit the Hot Spots: If you don't have time to look online, go for areas known for a specific type of cuisine, where there is sure to be a number of quality choices.  If you're in the mood for some chicken tikka masala, 6th street in the East Village has blocks upon blocks of Indian restaurants. In Midtown, Koreatown (32ndnd Street between Fifth and Broadway) offers up authentic Korean BBQ and other Korean delicacies. Chinatown in lower Manhattan or Flushing, Queens, have countless hot pot restaurants, noodle shops, dim sum, and bakeries. Astoria, Queens gives you a two for one—you can either head to the Greek section for some gyros, or Little Egypt for tea and kebabs.
3. Tip: Tipping is a hallmark of dining culture in the United States that can prove confusing and frustrating if you're not familiar with the custom. When it doubt, go with 15-20% or one of the many apps available help you out. Check out our tipping guide.
4. Make a Reservation: If you're going to a popular restaurant or it's a Friday or Saturday night, be safe and make a reservation. OpenTable makes it easy. With their website or app you can browse restaurants, read reviews, and make a reservation in minutes.
5. Know Your A, B, C's:  Don't ignore those handy signs posted in restaurant windows: they're there for your own good. The NYC Health Department posts them to show the most recent health rating received by the restaurant. If you're feeling brave and want to be extra informed, you can look up restaurants and their infractions on the Health Department's website.
6. Weekends = Brunch: Brunch in New York is the perfect way to catch up with friends on the weekend, and with both breakfast and lunch food to choose from, there's something for everyone. Restaurants normally have a set menu including a main dish, coffee, and an alcoholic beverage, served from around 10-4 (though check with individual restaurants first), so you can still sleep in.
7. Follow that Truck!: New York's enormous food truck scene is just as diverse as its restaurants, with the added benefit of being less expensive and portable. Food trucks usually have very active Twitter accounts so if you have a favorite, be sure to follow them for tweets on their current location.
8. Go to Food Festivals: New Yorkers are serious about their food trends (remember the headline-making lines for the cronut?), and with their large audiences and festive atmosphere, food festivals are the perfect place for the launch of creative new ideas. For example, the famous ramen burger premiered at Brooklyn's Smorgasburg, a weekend market/festival at which 75-100 vendors sell prepared foods throughout the warm months. There's a food festival for every palate, many of them with an international flavor, such as the Ninth Avenue International Food Festival in May.
9. Order In: For those rainy days when you don't want to brave the slush puddles and taxis determined to drench all pedestrians in sight, turn to one of the many takeout delivery options in New York. Seamless, Delivery.com, and grubHub are the most popular options, each with easy-to-navigate apps and websites complete with menus, special offers, and restaurant suggestions. Delivery is usually free and you can pay online with a credit card. Just don't forget to tip whoever has braved the elements to bring hot food to your door!
10. Eat In: Though eating out or ordering in can be much easier (and maybe more delicious depending on your cooking skills) than cooking yourself, doing so every night can quickly add up in New York.  With a little planning ahead and knowing where to go, you can find anything you need to stock your (tiny) New York kitchen and create your own meals.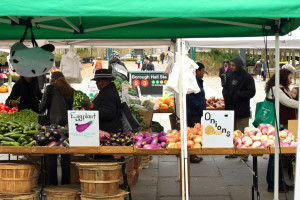 11. Shop Smart: Popular grocery store chains, Whole Foods, Trader Joe's, and Fairway Market offer a wide selection of foods including organic and international options and will even deliver to your door for a fee. The downside is that they can often be very crowded (if possible, avoid going at peak times, such as directly after work). Another great option that also supports the local economy are the many farmer's markets that set up throughout the city on weekends, offering fresh, locally grown groceries from produce to cheeses, wines, baked goods, and more.
12. Shop Online: If you'd rather do your shopping from the comfort of your home, or don't have the time to grocery shop yourself, there are many ways to do so. Instacart matches you with shoppers in your area who pick out and deliver your groceries. Another option is Fresh Direct, which specializes in bringing you the freshest and cheapest produce, meats, breads, and more by buying directly from distributors. Google and Amazon have also recently launched grocery delivery services, Google Express and AmazonFresh, respectively.