Immersive tech programs, or boot camps, have taken the United States by storm, equipping graduates with a strong set of technical skills in an extraordinarily short period of time. In these programs, students undergo rigorous training for ten to twelve weeks and emerge on the other side as qualified programmers, many times moving on to rewarding, highly-paid jobs. This move away from traditional longer-term programs to short crash courses focused on tech is now spreading globally as several of the larger programs open branches in cities around the world.
As this form of education grows, New York City remains on the cutting edge, with several programs of its own. Internationals should keep in mind though: these programs don't sponsor visas, so make sure all legal matters are squared away before applying. General Assembly is one of those programs. With branches now in London, Hong Kong, Sydney, and Melbourne as well as across the US, the school has seen the value of tailoring its tech classes to different locations. Commenting on the different approach needed for each country, Anna Lindow, general manager of campus education and operations for General Assembly, noted that each city had its own unique flavor, with certain programs more popular in some areas than others—such as the popularity of the data science program in Hong Kong versus the web development immersive course in San Francisco. This is reflective of the types of jobs people are looking for, the hiring market, and public perception of these factors, Ms. Lindow said.
SCHOOLS

General Assembly
When they first started in 2011, General Assembly was a co-working space that began adding courses to meet demand. Now, they're a full school and offer four immersive "boot camp" courses and a wide variety of other classes and events including study groups for alumni. General Assembly is unique in its global reach: they offer courses in thirteen cities spread across four continents, and have a community of over 240,000 students.
Flatiron School
Founded in 2012, the Flatiron School expanded in a big way after winning the New York City Economic Development Corporation (NYCEDC)'s competition "Take the H.E.L.M.: Hire + Expand in Lower Manhattan," for which they received a $250,000 grant to grow in Lower Manhattan. This year the school has re-launched the NYC Web Development Fellowship, a college alternative program for New Yorkers aged 18-26 that do not possess a four year degree. Fellows take part in the 22-week program, which operates out of the Flatiron School's Brooklyn campus, entirely for free thanks to sponsorship by the NYC Department of Small Business Services.
The New York Code + Design Academy also offers a web development immersive program as well as a variety of shorter classes in New York and Philadelphia.
WEB DEVELOPMENT BOOT CAMPS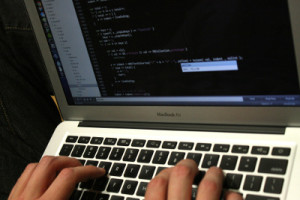 The following companies focus their energies on providing one strong immersive course with phenomenal teachers, and job placement.
Dev Bootcamp
Dev Bootcamp (DBC) was started in 2012 in San Francisco by Shereef Bishay, Jesse Farmer, and Dave Hoover. The program's forty teachers focus on teaching Ruby on Rails to its 450+ students at its three locations. The curriculum consists of three phases: first starting with the fundamentals of programming, adding front-end applications, and then putting it all into Ruby on Rails framework.
App Academy
App Academy was founded in 2012 by Ned Ruggeri and Kush Patel, who met while attending University of Chicago. App Academy's team of instructors hails from across the United States as well as the Netherlands and Australia. The program is unique in its pay-after-you-finish model.
Other New York boot camps include Fullstack Academy of Code, whose 13-week program is augmented by eight weeks of pre and post-course support.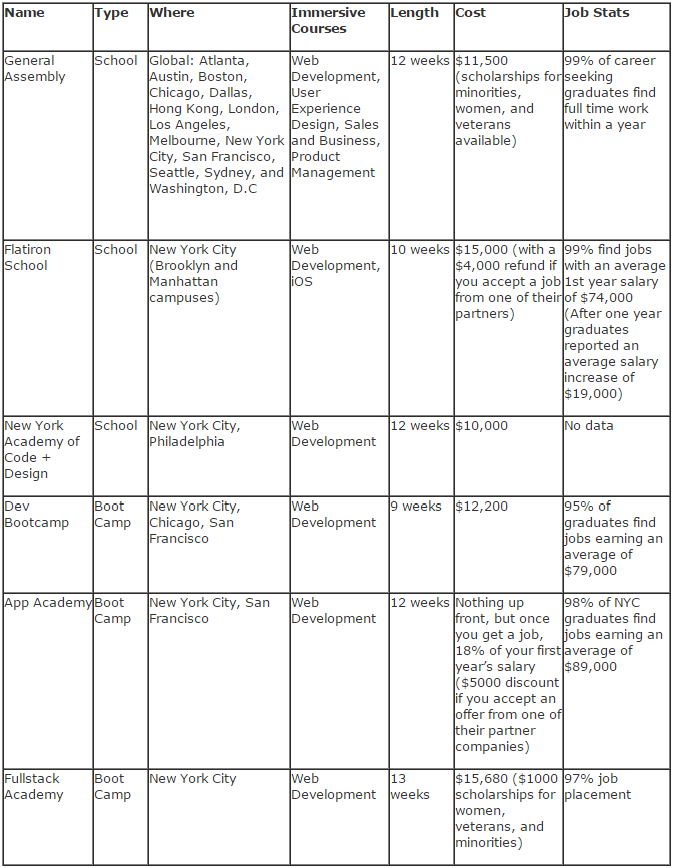 FREE OPTIONS
If you're not sure you're cut out for coding, or just want to brush up on a few details, there are some free ways to start learning.
Hacker School
This school remains free thanks to support from the companies that recruit from their graduating pool. They don't have formal instructors – instead they have facilitators, who are experienced coders that encourage teamwork and help students learn on their own. As you can expect, you need to be extremely self-motivated to succeed in this unstructured environment, but alumni all rave about their experiences here.
Codecademy
A completely online venture started in New York that offers free coding tutorials, projects and assistance to its global community of learners. They've also expanded their online operations internationally by partnering with several institutions to translate their content into five languages and counting.
Since the oldest of these schools is only the age of a toddler, the larger role that they will play is yet to be seen.  Are they the future of education as an alternative to the traditional four year degree or in addition? In any case, they're something to keep an eye on as they're producing highly qualified graduates sure to make a difference in the tech world.