Deciding that you want to be an entrepreneur and start your own business can be both a dream come true and your biggest nightmare. Finally, you'll be working for yourself, making your own decisions, and working on your own schedule.  But without proper training, time management, and purpose, being an entrepreneur can be incredibly challenging. Not to mention it is up you to take initiative and teach yourself the latest software, practices, and skills. While these can be tough obstacles, one of the biggest is without a doubt finding the ideal office space – a difficult task anywhere, but especially in New York.
While startups may first begin working out of apartments and coffee shops, as your company grows to include a team of freelancers and telecommuters you'll want to get together on a regular basis. There are various approaches to co-working in New York City, which is not only known for its creativity but also for its innovative use of tight spaces (they say "innovation usually stems from necessity.") If you enjoy working with others, then a co-working space is a great option for you as you are able to share knowledge, ideas, costs, and culture with your neighbors. In addition, co-working spaces provide small businesses with necessities such as WiFi, printing, and office supplies. Applicants and inhabitants of NYC's co-working spaces include freelance designers, programmers, startup companies, PR and marketing freelancers, writers, telecommuters and many other creative minds. Some of the co-working spaces even sponsor and support some of the small businesses in different ways.
OfficeLinks: Originally founded back in 2003 as a shared office space, OfficeLinks expanded into the co-working area in 2013 with OfficeLinks HUB on Park Avenue South. In addition to offering monthly co-working memberships, they also have a two-times-per-week membership option, something few other co-working spaces offer. The company has five locations and over 1,000 workspaces spread across New York including in Midtown, Chelsea, and the Financial District.
We Work Labs: Founded in April 2011 in the heart of SoHo, We Work Labs hosts a variety of events for its tenants including demo days, happy hours, seminars, lunch and learns, and networking events. We Work members enjoy an almost unmatched offering of amenities, including access to discounted healthcare, a meditation room, and an arcade, among many others. They now have thirteen locations throughout the city.
Grind: Connect with other members at the "Grind Gallery," a wall where members can post projects, events, and find potential collaborators in the office. Grind also offers a unique "Moonlighter" option for late night and weekend workers: for less than half the price of a regular membership, you can use the space after 4 pm Monday through Thursday, and all day Friday and Saturday.
New Work City: In operation since 2005, New Work City's workspace in Little Italy has the feel of a college library. They focus on creating a collaborative community, with online and in-person discussion and motivation groups, events, "Work Sprints" to up your productivity, and monthly member meetings.
Projective Space: Projective Space's two Manhattan locations are dedicated to progressive thinking. "We don't want people making cold calls all day here," says James Wahba, co-founder of Projective Space. To ensure the environment stays this way, companies must go through a longer application process than with other spaces, including an interview. But once you're in, you'll get to work alongside thriving and inspiring startups like Uber, Stripe, Buffer, indiegogo, Instacart and more.
The Yard: The Yard gets the award for cheapest monthly desk membership on the list (available at their Columbus Circle location). They have three locations in Manhattan and one in Brooklyn, with unique features in each—including rooftop offices in their Lower East Side location.
Alley NYC: The team at Alley NYC calls themselves "the most bad-ass community on the planet," and fosters this idea with a constantly full calendar of events. These range from networking hours to panel discussions and workshops to help your company grow. Tickets can be purchased by the public, but members get a free access pass to them all!
Green Desk: In addition to the usual amenities, Green Desk focuses on being environmentally conscious, serving organic coffee and implementing a bike rental system. They're only in Queens and Brooklyn though, which might be difficult if you regularly have meetings in Manhattan.
42 West 24th: This co-working space in Chelsea also has an eco-friendly focus, with partnerships with Zipcar and TerraPass, a recycling program, and usage of recycled office materials.
All the co-working spaces listed have the basic amenities: WiFi, mail collection, conference room availability (some for a fee), front desk services, and 24/7 keycard access. Many offer free coffee and tea as well. Virtual office and community memberships allow you to have an address for business mail delivery/pick up, and in some cases access to events.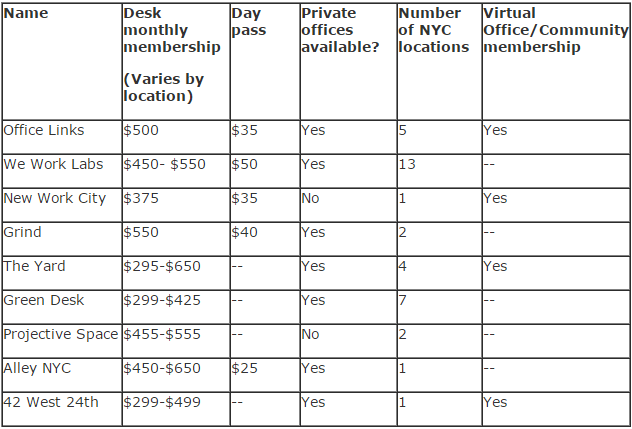 Can't find what you need? There are many websites to help you find the shared office space you're looking for, including Pivotdesk and Desktime.