For startups looking to get a leg up in their industry in New York City, incubators can be a good choice. These long-term programs for startups usually provide not only a collaborative environment, office resources (Wi-Fi, printing, and conference rooms), and industry events, but often they also provide mentorship, may assist in securing funding, and support startups in a variety other ways. Incubators differ from accelerators in that they usually have a much longer time-frame for their programs (one to two year leases) and work with companies in the earlier stages of development. Incubators are typically sponsored by government entities, economic development organizations, or academic institutions and often have an industry-specific focus.
Some of the more well-known incubators in NYC that might be right for your startup include: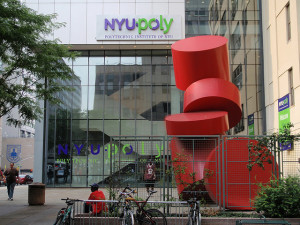 NYU Poly Incubators:  NYU first teamed up with the NYCEDC in 2009 to open the Varick Street Incubator, the first city-sponsored incubator. Today, the university sponsors this and two other locations; the DUMBO Incubator focuses on hardware and digital media technologies, while Urban Future Lab is the newest incubator program with a focus specifically on the cleantech industry. Access to NYU's extensive university resources such as faculty mentors and research facilities make these incubators extremely competitive and desirable. Cost varies depending on whether the companies are based at NYU-Poly or not. Applications are rolling.
The Hatchery: Since 2007 the Hatchery has fostered entrepreneurs with an international focus, helping to expand beyond the borders of the US. They support companies in the Fintech, data analytics, media, and security sectors. Members can tap into their extensive network of partners, mentors, and collaborators to get the resources they need.
Fordham Foundry: At least one team member must have a connection to Fordham University to be accepted into this incubator (alumni, current student, faculty, staff), but all industries are welcome. Part of Fordham's Center for Entrepreneurship, it is located at Fordham's campus in the Bronx. Applications are accepted on a rolling basis.
Zahn Innovation Center: At least two team members must be affiliated in some way with City College to be accepted into this incubator which has a tech and social focus. Admissions are accepted on a rolling basis. Additionally, they hold three competitions throughout the year, in which semi-finalists gain membership to the incubator.
DESIGN

Pratt Design Incubator: Originally exclusively for alumni of the Pratt Institute, the incubator has now opened its doors to all design entrepreneurs with a sustainable business mission. Fifteen startups at a time are accepted into the program.
CDFA Fashion Incubator: This two-year program focuses on supporting ten fashion designers at a time with low cost studio space, mentors, workshops, and other opportunities to grow. Designers must have been in business for at least two years with an established business in the United States. The current program (2014-2016) is already underway, and applications for 2017 will be announced in the future.
NY Designs: This incubator supports design, manufacturing, and tech oriented businesses at City University of New York (CUNY) at LaGuardia Community College in Queens. Members of the community may stay for three years as they grow their business and take advantage of the resources which include access to their mentorship network, a fabrication workshop, and more.
BIOTECH
Harlem BioSpace: Since November 2013 the Harlem BioSpace has been providing a collaborative workspace as well as technical tools and wet-labs for twenty-four select startups in the life sciences field. Located near Columbia University, the lab accepts companies that are in an early stage of development, have an experimental focus, and either originated in an NYC-based medical institution or show proof of continued development in NYC.
SUNY Downstate Biotechnology Incubator: This incubator provides an impressive suite of labs and facilities to startups in the biotech field at its Brooklyn location.
Audubon Business and Technology Center: Run by, and located at, Columbia University, this incubator is geared towards startups in the life sciences field. The 100,000 square foot center includes access to all the labs and resources you need to push your idea forward.
FINTECH
FinTech Innovation Lab: Sponsored by the Partnership Fund for New York City and Accenture Global Management consultants, this highly selective program takes place for twelve weeks each spring. With a broad mentor network, workspace, and a packed program, applying is worth it for all up-and-coming FinTech startups. Applications are due at the end of March each year.
MEDIA
Made in NY Media Center: Located in DUMBO, Brooklyn, the film, media, and technology incubator is just one part of a center that comprises of more than 20,000 square feet and hosts events, exhibitions, galleries, and more. After acceptance into the program, for $450 monthly, members get workspace and access to all events, select classes, mentorship, and even the opportunity to teach a class at the center.
New incubators are constantly cropping up, such as Manufacture NY, which is scheduled to begin construction in Brooklyn February 2015, and Beespace, a new incubator dedicated to non-profits.
For a full list of all incubators and accelerators, check out Digital.NYC's guide.
Is being in an incubator not right for your business? Then you might want to take a look at co-working in NYC.